Leeds UK
Leeds is one of the most famous cities in the United Kingdom. It is known for its art, culture, sports, politics, and, most significantly, its historical moments.

Furthermore, Leeds is also a rich industrial city, making it an ideal place for travel!
Leeds has the biggest and one of the most popular parks in Europe, however, if you are not a fan of this but are more of a party person, the city also has a list of places perfect for you!


From gay saunas, gay clubs, and gay massage parlours, gay travellers will always find something fun to do.


There are plenty of massages in other Locations as well or perhaps you are just looking for some tips.
History of Gay Massage in Leeds
The thriving gay culture in Leeds came from a long history of activism and decent. Almost 40 years ago, homosexuality was still considered a crime throughout England, Wales, Scotland, and Northern Ireland.

Even during this tumultuous time in Leed's history, the LGBT community and its allies have always rallied against the inequality, loudly supporting, promoting, and campaigning for gay rights with Pride.
In the following years after the decriminalisation of homosexuality, various establishments for queer people rose and became famous. Throughout the 1950s and 1960s, The Mitre Pub and The Royal Hotel became safe spaces for gay people.


Additionally, The New Penny, formerly known as The Hope and Anchor, the longer-running gay pub in Leeds, provided a safe venue for queers to be who they are without fear.
Today, the history of the LGBT community is still kept alive and celebrated for the people to know how the city has always stood for equality and love.

LGBT History Month is celebrated every February of each year, where workshops, talks, fundraising campaigns, and awareness-raising activities are held.
Best Gay Massage in Leeds
4 Hands Massage Leeds was established in 2015. Two gay men run it, but their services are not exclusively offered to other gay men but also to men of different orientations.


They aim to provide a comfortable and safe environment for men to relax and have fun! So if you are traveling or living in Leeds, then they will be the answer to your problems.
The gay masseurs are highly trained in four-handed massage and three blissful and sensual services: four-handed herbal compress, 4-handed Swedish massage, and four-handed body scrub.


More than professional massage therapy, they also use the highest quality all-natural products Leeds offers. If you enjoy these services, you can also use them at home.
Contact: 07946787888 or 01138151888
Website: https://www.4hands.co.uk
Gay Massage Leeds



Massage therapy in Gay Massage Leeds is offered by a qualified, handsome, and hunk masseur trained to do sports massage, deep tissue massage, Swedish Massage, Thai Massage, and reflexology.
He offers Erotic Massage for only £100 per, which already includes body-to-body touch with a happy ending! Aside from Erotic Massage, the masseur also offers Regular Swedish Massage and a happy ending massage.
His massage studio is accessible even to gay tourists as it is located in Leeds city centre.
Contact: 07828243480
Website: http://gaymassageleeds.com/services
Tameside Male Massage Therapist



The masseur in Tameside Malle Massage Therapist is a muscular guy with tattoos named Andreas. He offers a full range of massage services, including Swedish and Deep Tissue Massage.


He also has a range of massage products, such as a massage gun, which is best for releasing tensions all over the body, and a massage for sensitive areas.
When availing of his service, you will get your treatment in his house in Audenshaw/Tameside in a private relaxation room.
Quality essential oils will be used during your massage for the perfect experience! Shower facilities and refreshments are also available during your session.
Website: https://www.gumtree.com/p/swedish-massage-services/tameside-male-muscular-massage-therapist/1433749073
Plastic Ivy Sauna is located in Dewsbury, South Leeds. It is Yorkshire's busiest, longest, and most established sauna complex exclusively for gay and bisexual men.


They offer a clean, relaxing, safe, and discreet safe place for gay and bisexual men to hang out and meet each other in a friendly environment.
It is accessible even to tourists, so you will never get lost! It is just a short walk from the bus and train stations and off the M1 and M62.
They will give you a locker towel and a brief tour of the place when you enter the complex. After which, you will be left on your own to enjoy the facilities and all its services fully.


Their facilities include a six-man spa pool, eight-man sauna club, ten-man steam rooms, video cabins, cruising areas, dark rooms, glory hole stand-up cabins, cinema, cafeteria, television lounge, free internet cafe, WiFi, lockers and changing rooms, showers, towels, and refreshments.


These are all open to all members!
Contact: 01294455600 or [email protected]
Website: https://www.plasticivy.co.uk/contact
Steam Complex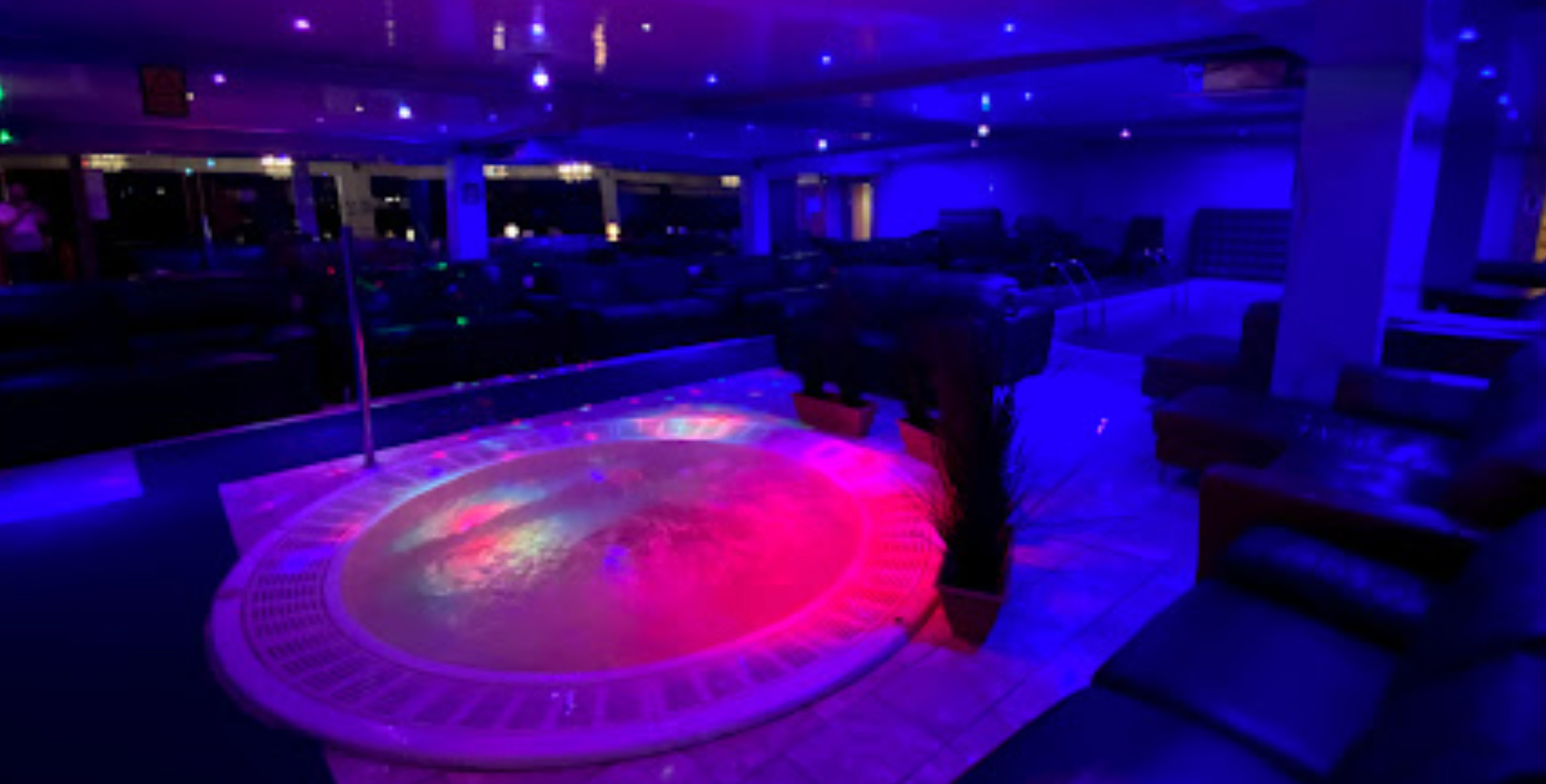 With many facilities, steam Complex has one of the best gay saunas in Leeds. Steam Complex is the North's largest all-male gay and bisexual sauna, established in 2007.

Downstairs in their sauna are changing rooms, sauna, massage place, steam room, showers, jacuzzi, and overnight rooms for those who will stay over the weekend.


On the other hand, the upstairs is dedicated to all the fun. You will find plenty of cabins, cinemas, dark rooms, BDSM rooms, and relaxation. They also give out a lot of condoms and lubes.
It is located just 2.7 miles away from the city centre. You will never get tired of Steam Complex since they constantly change the rooms' setup and continuously add facilities and services for everyone's enjoyment.
Contact: [email protected]
Website: http://queersaunas.co.uk/saunas/steam-complex-leeds
Types of Gay Massage in Leeds
Erotic body-to-body massage – Erotic body-to-body massage is a sensual massage where the masseur's skin comes into contact with the client's skin. The end goal of this type of massage is sexual arousal and ejaculation.


It is famously called a type of massage with a "happy ending" since it refers to the manual stimulation through different massage techniques and strokes to reach climax.


Tui Na – Tui Na is a Chinese term that directly translates to "pinch and pull." This type of massage includes a broad range of Traditional Chinese Medicine (TCM) therapeutic massage and bodywork. Tui Na is used chiefly as a treatment to address specific disharmony patterns in the body.


Much like other treatments rooted in Chinese medicine, tui na aims to harmonise the body's yin and yang by manipulating the Qi in acupuncture channels.


Deep Tissue Massage – If you are experiencing chronic pain or any bodily discomfort from working or traveling, then Deep Tissue Massage might help and fix your physical woes. It focuses on realigning the deeper layers of connective and muscle tissue by slow strokes and deep finger pressure on tight areas.


While it may cause discomfort or pain at first, most people say it is the happy pain that leads to full-body relaxation. And if you have low pain tolerance, feel free to communicate with your masseur regarding the level of pressure you want.


Sports Deep Tissue Massage – Sports Massage is another type of deep tissue massage that combines deep and light modalities to improve circulation and body flow, loosen muscle knots and tensions, and prevent lactic acid buildup.


One of the most significant benefits of getting a sports deep tissue massage is its ability to reduce pain and relax muscles.


Thai Massage – Masseurs in Leeds deliver a quality Thai Massage. It is one of the most popular types of massage globally due to its several health benefits, such as increased range of motion, helping with back pain, reducing the intensity of back pains, lowering tensions and stresses, and helping stroke patients.


FAQ
How old do I have to be to get a gay massage in Leeds?
Most masseurs and massage parlours in Leeds only accept clients over 18 years of age. If you look younger than 21, then bring your ID for them to take your booking.
Do I have to leave my house to get a gay massage?
There are a lot of in-home masseurs in Leeds that you can find on the internet. Make sure that both of you follow health guidelines and protocols.
Are there a lot of options for gay massage in Leeds?
Yes! Leeds is filled to the brim with massage parlours. As mentioned in this article, man-to-man gay parlours in the city offer different types of massage therapies, so you will find one that perfectly first your preference.
Should I feel safe getting a gay massage in Leeds?
Since its legal in the city, it also means that the government regulates the industry more. This means that there are more rules and guidelines for what masseurs can and cannot do.
What is the easiest way to find a gay massage in Leeds?
You can quickly go to your web browser and type "gay massage in Leeds," and you will find many options. You can find their contact details on the internet for you to call or simply send a message to them to book your massage.