Bristol UK
Some travellers go to other places to see eye-catching sceneries or try out traditional and local cuisine. Do not forget to try out new experiences in the city in which you live!


Especially for gay travellers, going to different gay parlours or saunas can be the best opportunity to relax and relieve stress from traveling, while getting to know the culture more by socialising with local folks.
Visiting Bristol UK ticks a huge number of boxes in this regard. It has beautiful sceneries, delicious food, and one of the brightest and liveliest gay sceneries in the United Kingdom!


There are plenty of massages in other Locations as well or perhaps you are just looking for some tips.
Best Gay Massage in Bristol UK
Sparta Bristol



Sparta Bristol is found on West Street. It is an LGBTQ+ cruise bar and venue where you can find late-night drinking, dancing, good vibes, and playing. If you only have limited time in your pocket and will leave the city soon but want to experience the gay scene and everything it offers, then Sparta Bristol should be your first stop.


It is not just an ordinary gay bar. Inside it are multiple options of facilities you can enjoy. They have a licensed bar with professional misers, hot tub, steam room, sling rooms, multi-level glory holes, private rooms, dark rooms, cage, outdoor semi-covered smoking garden area, cinema room, and an indoor lounge.
Your experience in Sparta Bristol can vary depending on the day you visit. During the day, the people are primarily chilling and relaxing by watching television in the lounge, while loud dancing and drinking are experienced at night.
Contact: [email protected]
Website: https://web.facebook.com/spartabristol?_rdc=1&_rdr
Massage Man Bristol



Massage Man Bristol is not open every day of the week, so make sure to make your appointment in advance to experience one of Bristol's best and most professional masseurs.


On Tuesdays and Fridays, therapies are given at Enso Healing Rooms at Cheltenham Road and Bristol College of Massage and Bodywork at Pembroke Road on Thursdays.
The masseur behind Massage Man is Chris Morgan, a holistic massage therapist who offers quality and intuitive massage therapy tailored to man's every need. He received his training and got his Holistic Massage level 4 qualification at Bristol College of Massage and Bodywork, so you know you are in good hands!


An initial consultation will occur upon meeting and before getting the actual massage. Most of the questions are about lifestyle, general health, and current sources of discomfort and pain for him to know what massage techniques to use.
Not only is his practice LGBT friendly, but he also offers a 10% discount for all NHS workers and teachers!
Contact: 07795663620 or [email protected]
Website: https://www.massagemanbristol.com/
Bristol Healing Hands



This will be up in your ally if you are a holistic health and massage therapies fan. He is vegan and passionate about everything healthy, so he enjoys cycling, climbing, playing volleyball and tennis, and dancing.


If you like these things, you can bond over them during your massage. He believes that massage therapies do not just help with physical pains and stresses, but they can also be significantly helpful to people's mental health.
Rokas Buciunas, the holistic masseur, is a qualified practitioner with a level 4 diploma in holistic massage, anatomy, and physiology from the United Kingdom's leading massage school. He has comprehensive knowledge of musculoskeletal conditions and can offer safe and effective treatments so you can seek.


More than this specialisation, he is also experienced in multiple disciplines that he combined and used in his tailored therapies. He draws from Swedish Massage, Deep Tissue Work Massage, and Joint Mobilisation Massage techniques.
Rokas prides himself on a safe space for everyone, especially members of the LGBT community. One of the many pillars of Bristol Healing Hands is making all clients feel valued and supported. He is also a proud trans ally and gives a permanent £10 discount to all transgender people.
In his studio, you can dress or undress to your liking just as long as it is what makes you feel relaxed and comfortable. He always asks for consent and only uncovers areas of the body that he mutually agreed to work on.
Contact: 07754076472 or [email protected]
Matthew Harrington's Massage Therapy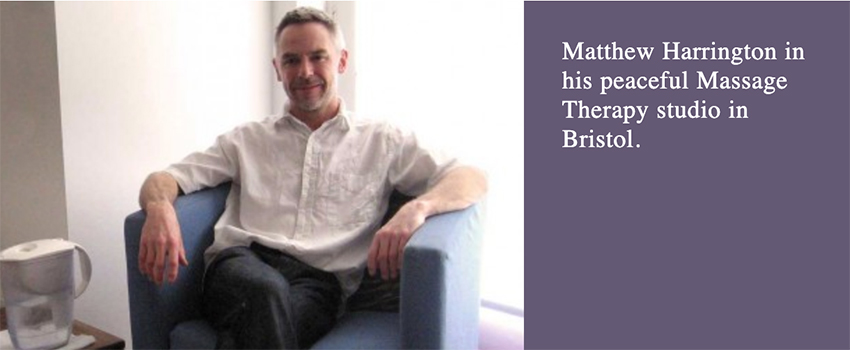 Matthew Harrington is a masseur based in the heart of Bristol who offers a long list of massage therapies. He is known for his Therapeutic Massage, Holistic Massage, Deep Tissue Massage, Sports Massage, Remedial Bodywork, Craniosacral Bodywork, Traditional Thai Massage, Aromatherapy, Hawaiian Lomi Lomi Massage, and Tantric Massage.
Matthew first received his professional training in London and started practicing in 1994. But he moved up the ladder in 2002 when he finished his study and graduated with a BSc. (Hons) in Health Sciences: Complementary Therapies. After this, he decided to move to Bristol, where he currently practices.
You will be given a free consultation for whichever type of treatment you choose. He will ask for health history, lifestyle, and personal needs to customise his blend of techniques.
Contact: 07814873265 or [email protected]
Website: http://matthew-harrington.co.uk/
Bespo'ke Male Grooming Co.



People always think of hair cutting or facial services when hearing about grooming places. But did you know that several grooming places also offer massage therapies?


In Bespo'ke Male Grooming Co., all staff provides a fun and professional atmosphere for all men, regardless of gender, to enjoy their treatment and relaxing services.
The services they offer aside from massage therapies are waxing, facials, shaving, hand treatment, food treatment, and hairdressing. All services perfectly blend instant relaxation, rejuvenation, and invigoration. More than this, their treatments are also crafted exclusively for men.
For massage therapies, you can choose from Back, Neck, and Shoulder Massage, Back, Neck, and Shoulder Massage (extended), full body massage, Bamboo Massage, and Indian Head Massage.
Contact: 01179277127
Website: https://bespokemalegrooming.co.uk
Types of Gay Massage in Bristol UK
Hawaiian Lomi Lomi Massage

This is a famous and traditional type of massage that originated in the islands of Hawaii. It is known as a 'loving hands' massage that employs an amalgam of massage techniques, uses a variety of nut oils, and often includes elements of prayer, breathing, and dance to restore energy and relax the body.

Tantric Massage
Tantric Massage is a Western practice primarily derived from Hindu beliefs. It is part of neotantra. While it involves sensual massage in erogenous zones and genitals, the end goal of it is mindfulness and not orgasms or climax.

Craniosacral Bodywork
If deep tissue and painful massage techniques are not your thinking, try out craniosacral bodywork. It uses a gentle hands-on technique with a light touch to examine membranes and movements of body fluids throughout the central nervous system. The bodywork of the central nervous system promotes and improves well-being by eliminating pain and boosting health and immunity.

Bamboo Massage
Bamboo massage is not as widely practiced or sought as Thai Massage, but it is another type of massage well-loved by the holistic health community. Experts on holistic treatments believe that Bamboo Massage has many healing properties that help alleviate muscle tension, pain, and ache; improve joint function; increase blood circulation; help enhance sleep.

Yes, it is called Bamboo Massage since it involves using bamboo canes! The size and types of bamboo canes will depend on the client's size and desirable treatment outcome.

Aromatherapy Massage
Aromatherapy Massage is ideal for everyone's bodily needs. It can help with relaxation, pain management, and even mood improvement. It is unique because it uses various essential oils that can maintain the skin's suppleness, offer pain relief, and stimulate the mind with the aroma. Each type of essential oil has different physical and mental benefits.



FAQ
Do I have to leave my house to get a gay massage?
There are a lot of in-home masseurs in Bristol that you can find on the internet. Make sure that both of you follow health guidelines and protocols.
Are there a lot of options for gay massage in Bristol?
Yes! Bristol is filled to the brim with massage parlours. As mentioned in this article, man-to-man gay parlours in the city offer different types of massage therapies, so you will find one that perfectly first your preference.
Should I feel safe getting a gay massage in Bristol?
Since its legal in the city, it also means that the government regulates the industry more. This means that there are more rules and guidelines for what masseurs can and cannot do.
What is the easiest way to find a gay massage in Bristol?
You can quickly go to your web browser and type "gay massage in Bristol," and you will find many options. You can find their contact details on the internet for you to call or simply send a message to them to book your massage.
How old do I have to be to get a gay massage in Bristol?
Most masseurs and massage parlours in Bristol only accept clients over 16 years of age. If you look younger than 21, then bring your ID for them to take your booking.